Straight Shank Tap Holders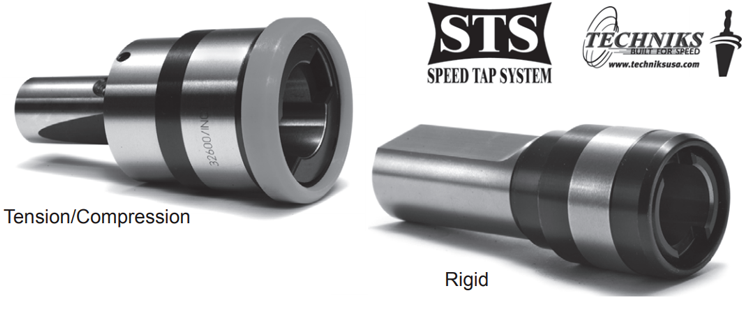 STRAIGHT SHANK TAP HOLDERS
Tension/Compression or Rigid Tapping
Synchronous (Rigid):
Modern machine tools have the capability of synchronizing the spindle rotation and spindle feed. This has made it possible to eliminate the spring compression and tension stroke utilized in traditional tapping heads. The advantage that this brings to threading is the speed by which the cycle can operate.
Tension/Compression:
Tension and compression holders have been the mainstay of machine tool tapping for many years.
These holders are for use with Bilz style quick change tapping collets
Prices are pulled from our database in real time. Press Add button to see product price.
Tension Compression Tap Holders
Adapter Size
Tap Size
Shank
Proj. Length
Collar Dia
Comp.
Tens.
Brand
Part Number
Code
#1
0 - 9/16
1"
1.60
1.42
.300
.300
STS
ST-S10-10TA1-U
D
1.76
1.61
.350
.350
Techniks
ST-S10-10TA1-T
B
#2
5/16 - 7/8
1"
2.50
2.09
.490
.490
STS
ST-S10-20TA2-U
D
2.52
2.36
.590
.590
Techniks
ST-S10-20TA2-T
B
#3
13/16 - 1 3/8
1-1/2"
3.78
3.08
.790
.790
STS
ST-S15-30TA3-U
D
3.85
3.38
.940
.940
Techniks
ST-S15-30TA3-T
B
Rigid Tap Holders
TECHNIKS [B]
STS [D]
Adapter Size
Shank
Proj. Length
Collar Dia
Part Number
Part Number
#1
1"
1.60
1.42
ST-S10-10FS1-T
ST-S10-10FS1-U
#2
1"
2.50
2.09
ST-S10-20FS2-T
ST-S10-20FS2-U
#3
1-1/2"
3.78
3.08
ST-S15-30FS3-T
ST-S15-30FS3-U